Welcome to Asmussens.com!
Committed to the future of racing in Texas!
The Southwest's most complete equine facility with more than 50 years of experience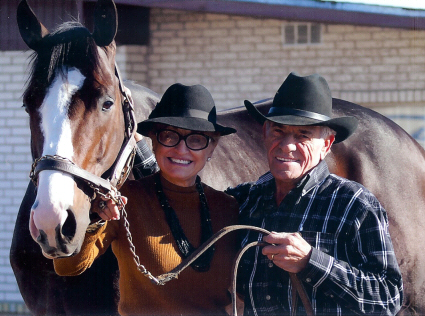 Keith and Marilyn Asmussen
Our numbers speak for themselves:
*6 Eclipse Award-winning Champions
*3 Breeders' Cup Winners
*13 Millionaires
*75 Graded Stakes Winners
*200 Stakes Winners
ASMUSSEN HORSE CENTER HAS ANNOUNCED A COMPLETE DISPERSAL
CLICK HERE for a list of mares for sale with prices
CLICK HERE for a list of stallions for sale with prices
CONGRATS TO EL PRIMERO TRAINING CENTER GRADUATE UNTAPABLE!
The Kentucky Oaks (G1) and Breeders' Cup Distaff (G1) winner is a millionaire for owner Winchell Thoroughbreds and trainer Steve Asmussen, and she won the Eclipse Award as Champion 3-Year-Old Filly. Her sire, TAPIT, and dam, FUN HOUSE, were also given their early education at El Primero. Let us help put your young racehorse on the road to success!
Standing two of the top stallions in the region: Intimidator and Littleexpectations.
Run and managed by experienced horsemen.
Horses are, and always have been, our ONLY business!
We appreciate your business!