Welcome to Asmussens.com!
Committed to the future of racing in Texas!
The Southwest's most complete equine facility with more than 50 years of experience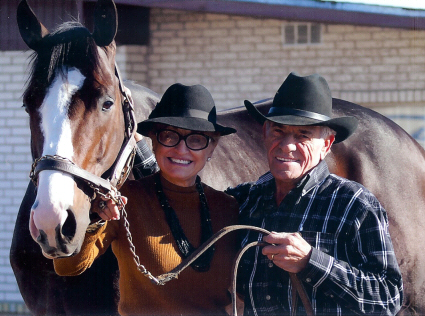 Keith and Marilyn Asmussen
EL PRIMERO TRAINING CENTER
Renovated and ready for your race prospects!
NEWS UPDATE - Congrats to El Primero Training Center graduate TENFOLD on winning the Grade 2, $600,000 Jim Dandy Stakes at Saratoga for trainer Steve Asmussen and breeder/owner Winchell Thoroughbreds LLC!
LOOK FOR THE ASMUSSEN HORSE CENTER CONSIGNMENT AT THE TEXAS SUMMER YEARLING SALE ON AUGUST 27 AT LONE STAR PARK!
11...UNNAMED...FILLY...INTIMIDATOR...CATS RULE
15...CLAMARATOR...COLT...INTIMIDATOR...CLAMOROUS CLARISSA
30...UNNAMED...FILLY...CONGAREE...FUNNY TUNE
31...UNNAMED...FILLY...CONGAREE...GET TIED ON
33...GONE BABY GONE...FILLY...CONGAREE...GOING AWAY BABY
59...WILLY SPECIAL CATS...COLT...SPECIAL RATE...PINWHEEL
62...LAMP OIL...COLT...INTIMIDATOR...READYLIGHT
67...UNNAMED...FILLY...INTIMIDATOR...ROCK ON GIRL
75...UNNAMED...FILLY...CONGAREE...SORORITY RUSH
IN 2016 OUR GRADS SWEPT BOTH DIVISIONS OF THE TEXAS THOROUGHBRED FUTURITY AND INCLUDED:
Texas-bred BLING ON THE MUSIC broke her maiden at first asking by nearly five lengths at Lone Star Park for owner Danny Keene and trainer J.R. Caldwell and then romped to win the $93,903 Texas Thoroughbred Futurity for fillies and the $100,000 Gold Rush Futurity against a field of male horses at Arapahoe Park. The filly finished third in the Grade 2 Pocahontas Stakes at Churchill Downs. She sold for a sale-topping $95,000 at the Texas 2-Year-Olds in Training Sale and earned more than $150,000 before being sold for $260,000 as a broodmare prospect in Kentucky.
Texas-bred SHADED, who sold to Clark Brewster for $36,000, won his debut by nearly four lengths on June 17 at Lone Star and then took the $90,248 Texas Thoroughbred Futurity for colts/geldings. He has already banked $80,782!
Texas-bred COUNTRY CANDY was another of the top sellers at the Texas sale when the filly by our stallion INTIMIDATOR went for $65,000 to Danny Keene and trainer J.R. Caldwell. She has already won the Evangeline Downs Princess Stakes and the Texas Stallion Stakes and placed in three other stakes to earn $119,780 with a record of 6-3-2-1.
MADE ME SHIVER, running for Hill 'n' Dale Equine Holdings Inc. and trainer Steve Asmussen, broke her maiden at Churchill Downs and then won the $100,000 Sorority Stakes at Monmouth Park. She has earned more than $90,000.
Asmussen Horse Center was the leading consignor at the 2016 Texas 2-year-old sale, with 10 sold for $262,900!
Asmussen Horse Center is honored to have received this plaque from Webb County Commissioner John C. Galo and the Webb County Commissioners Court in recognition of "worldwide achievements in your careers as Professional Horsemen. You make Webb County proud!"
Our numbers speak for themselves:
*6 Eclipse Award-winning Champions
*3 Breeders' Cup Winners
*13 Millionaires
*75 Graded Stakes Winners
*More Than 200 Stakes Winners
Run and managed by experienced horsemen.
Horses are, and always have been, our ONLY business!
We appreciate your business!